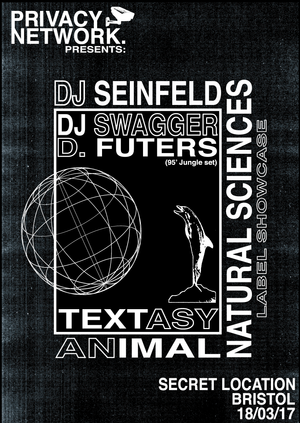 Privacy Network x Natural Sciences w/ DJ Seinfeld & More
18th Mar 2017 9pm - 3am
Add to Calendar
2017-03-18 21:00:00
2017-03-19 03:00:00
Europe/London
Privacy Network x Natural Sciences w/ DJ Seinfeld & More
Privacy Network are very happy to announce our debut for the series with the self proclaimed mutant freaks Natural Sciences. A Label showcase being held at secret venue in the heart of Bristol. DJ Seinfeld / DJ Swagger / d. futers / Textasy / ANIMALCome join us expect dancefloor scorchers.. House cuts, Techno, Jungle, Hardcore and a whole load of Acid. https://tickets.crackmagazine.net/events/6158/privacy-network-x-natural-sciences-w-dj-seinfeld-more
Live virtual stream event
Event Details
Privacy Network are very happy to announce our debut for the series with the self proclaimed mutant freaks Natural Sciences. A Label showcase being held at secret venue in the heart of Bristol.

DJ Seinfeld / DJ Swagger / d. futers / Textasy / ANIMAL
Come join us expect dancefloor scorchers.. House cuts, Techno, Jungle, Hardcore and a whole load of Acid.