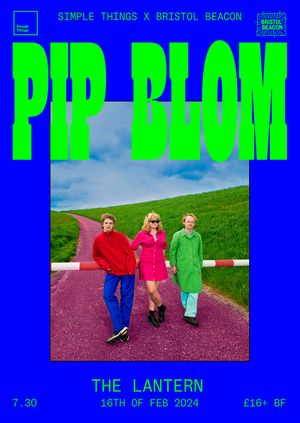 Pip Blom
16th Feb 2024 7:30pm - 11pm
Add to Calendar
Event Details
Simple Things and Bristol Beacon are proud to present Pip Blom at The Lantern next February.
25-year-old Amsterdam-based Pip Blom started writing, recording and releasing her own indie-pop tunes with a twist in 2016. Early songs, which were simply uploaded to the internet, quickly amassed thousands and thousands of plays - prompting Pip to recruit a band and start playing them live. In stepped brother Tender Blom on backing vocals and guitar, Darek Mercks on bass with Pip herself fronting on guitar on vocals.

For her third album, 'Bobbie', Dutch singer-songwriter Pip Blom decided to rip it up and start again. After making her name as one of the brightest indie rock singers around through two albums–2019 debut 'Boat' and 2021 follow-up 'Welcome Break'–and applauded live show honed over gruelling years of touring, the new album sees her take a delightful left turn into thumping, carefree synth pop.

We're also thrilled to back in The Lantern, a beautiful, recently renovated space within the Bristol Beacon, which last hosted music back in 2018. 
This one is going to be special for sure.