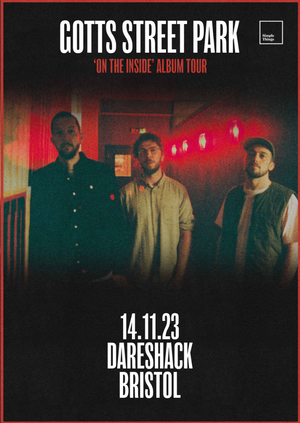 Gotts Street Park
14th Nov 2023 7pm - 11pm
Add to Calendar
Event Details
Simple Things presents Gotts Street Park, live at Dareshack this November.
On The Inside, the debut album from Gotts Street Park, is more than an album – it's an invitation. "We want listeners to feel like they're stepping into a room with us, peering into our process," say the acclaimed Leeds trio, describing a genre-hopping odyssey that acts as a collective diary of everything their relationship encompasses, both as collaborators and close friends. "When we listen back, we can hear the mood we were in on different days and in different seasons of our lives," they explain – which is why each hazy analogue synth melody, each pentatonic bass fill, each dusty guitar melody emerging from a seventies Fender amp seems tell a story. A story of three companions who've been honing their creative chemistry for a decade, and who want their music to communicate, on record, exactly how it feels when they're in the studio writing it. "Our music isn't super messed-with or over-produced. A lot of the time, we haven't done much to change the music from how it was created." OnThe Inside's title represents that rawness, they add – "how the music is what it is. It's a window into our world." 
That world has been rapidly expanding since the group was formed in Leeds by Josh Crocker (bass, production), Tom Henry (keys) and Joe Harris (guitar). What began as an outlet for their shared love for sixties Motown, soon became a jewel in the Yorkshire scene's creative crown, with millions of Spotify streams to their name and some of hip-hop and pop's most exciting emerging voices requesting collaborations: Celeste, Kali Uchis, Yellow Days and Rachel Chinouriri are just a few of the acts the band have individually written/ produced for. "Things have definitely evolved," say the trio, and they can say that again: in 2021, they dropped Diego, a cinematic four-track EP inspired by The Godfather and the works of Japanese auteur Yasujirō Ozu. 
When Gotts Street Park do hit a stage near you, expect the twelve tracks comprising their debut album to sound as they do on record: mesmerising, moving and marvelously inventive. On The Inside, after all, demands to be shared: it's another milestone in the evolution of one of UK music's most spell-binding collectives, and one of the most soothing of the year. Accept the invitation and step into their world.
Support TBA