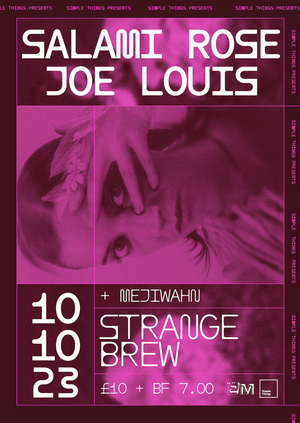 Salami Rose Joe Louis
10th Oct 2023
7.00pm - 11.00pm BST
Add to Calendar
Event Details
Simple Things proudly presents: Salami Rose Joe Louis live at Strange Brew this October.
Salami Rose Joe Louis is a multi-instrumentalist producer from California and a signee to Flying Lotus's independent label Brainfeeder. Drawing influences from jazz, soul, hip-hop, pop, Shuggie Otis, Captain Beefheart, Stereolab, and R. Stevie Moore, she creates a blend of experimental dreamy sounds with jazz influenced vocals and keys.
+ Support from: Mejiwahn
Oakland producer Mejiwahn liquifies lo-fi hip-hop, jazz, psychedelia, bossa nova and Ennio Morricone soundtrack work into a potent brew. Assembling sounds from near and far off places, he creates a unique live set of collaged loops, weaving the listener through a tangled web of nostalgia.