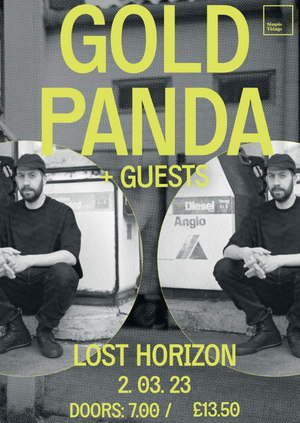 Gold Panda
2nd Mar 2023 7pm - 10:30pm
Add to Calendar
Event Details
Simple Things proudly present: Gold Panda.
Hailing from Chelmsford in Essex, Gold Panda started writing beats and collaborating in 2009, beginning a decade-long journey that has seen an award winning and zeitgeist-defining debut record, a nomadic follow up and a third record that found himself re-centering himself emotionally and musically via a spell in the far east.
Most recently Gold Panda has been exploring multiple musical projects, both collaboratively and under multiple guises. This includes a beautiful emotive techno record under the name Selling in partnership with Simian Mobile Disco's Jas Shaw, and a series of hip hop releases by way of his DJ Jenifa moniker. 2018 also saw a new creative pairing with sitar playing extraordinaire Anoushka Shankar as they created a set of music inspired by and referencing the legendary Ravi Shankar ahead of the centenary of his birth.